Business Analytics For Strategic Decision Making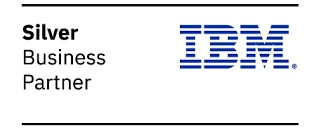 This Business Analytics program will help you gain the knowledge you need to turn your organization's data into a tactical asset to generate business value. Make data-driven strategic decisions for your organization with this Business Analytics for Strategic Decision Making program by IIT Roorkee.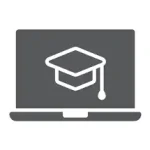 Online Bootcamp
Learning Format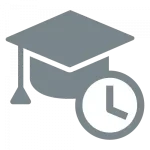 6 Months
At 10-15 hrs/week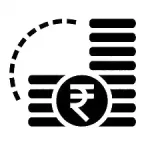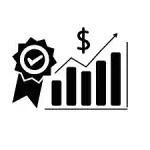 Placement
JobAssist Program
Business Analytics Industry Trends
According to IMARC Group, the global business analytics market reached a value of US$ 76.5 Billion in 2021 and expects the market to reach US$ 122.5 Billion by 2027, exhibiting a CAGR of 8.1% during 2022-2027.[Source: IMARC group]
Batch Profile
This program caters to working professionals from a variety of industries and backgrounds; the diversity of our students adds richness to class discussions and interactions.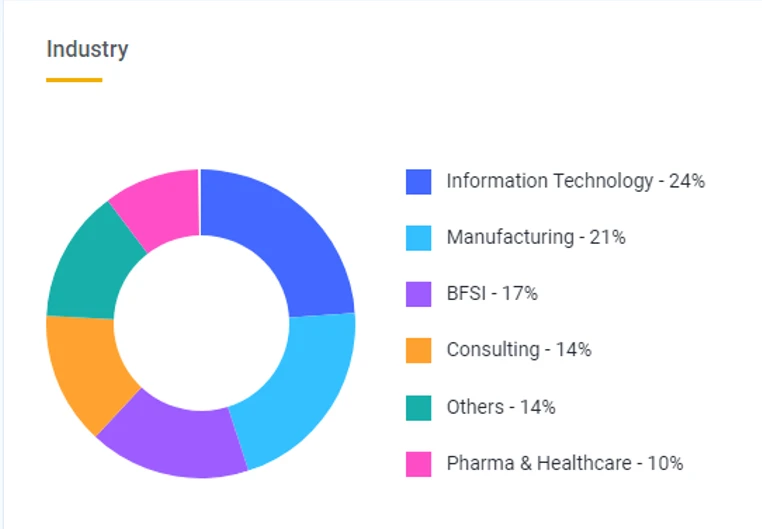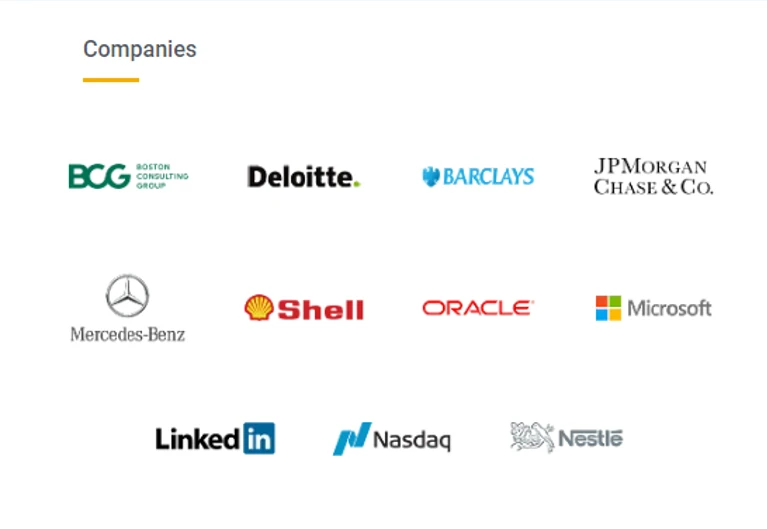 Business Analytics Program Overview
Make data-driven decisions to enable business growth and stay ahead of the competition. Develop a data mindset and the analytical skills to interpret and communicate data to solve business problems. Leverage this Business Analytics program to demystify data analysis and equip yourself with the required skills for strategic decision-making.
➦ Certificate of program completion from the prestigious IIT Roorkee
➦ State-of-the-art curriculum designed and delivered by IIT Roorkee faculty
➦ Live online masterclasses delivered by IIT Roorkee instructors
➦ Get industry insights through masterclasses by specialists from IBM
➦ Practical exposure through hands-on projects and a Capstone
➦ Case-based learning specially designed for mid-to-senior level managers and C-suite executives
➦ Interactive doubt clearing sessions to ensure clarity of course concepts
➦ Simplilearn's JobAssist helps you get noticed by top hiring companies
➦ Industry recognized IBM certificates for IBM courses
Business Analytics Program Details
Stay up to date with real-world business analytics applications. This Business Analytics program covers the in-demand concepts around business analytics such as statistical analysis, data visualization, predictive analytics, prescriptive analytics, machine learning, neural networks, and much more.
Having queries regarding the Program !
Submit your details below
Our Academic Experts will assist you within 24 hours.
➦ R Programming
➦ Descriptive Analytics
➦ Predictive Analytics
➦ Prescriptive Analytics
➦ Linear and Logistics Regression
➦ Supervised Learning
➦ Unsupervised Learning
➦ Classification and Clustering
➦ Decision Trees
➦ Random Forests
➦ Data Visualization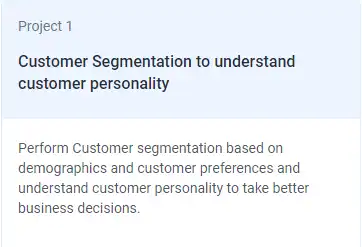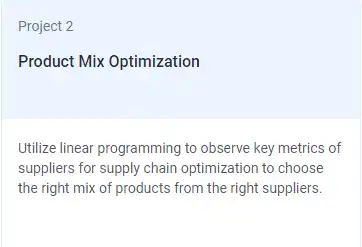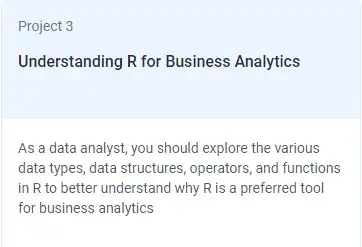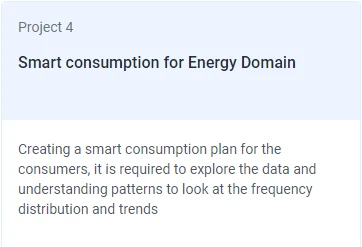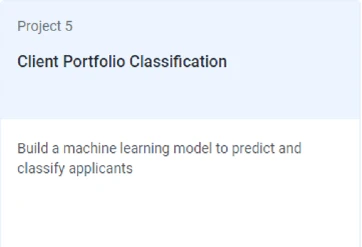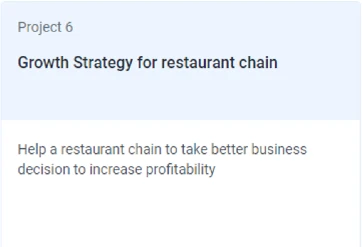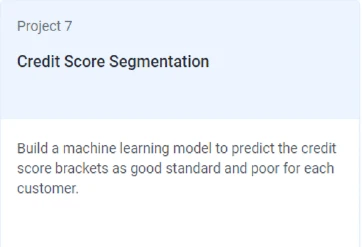 Disclaimer - The projects have been built leveraging real publicly available data-sets of the mentioned organizations.
Program Certification
Stay ahead in the world of data through this Business Analytics online program from IIT Roorkee. With a curriculum co-created by IIT Roorkee professors, masterclasses from IIT Roorkee and IBM, gain the essential skills to excel in the digital age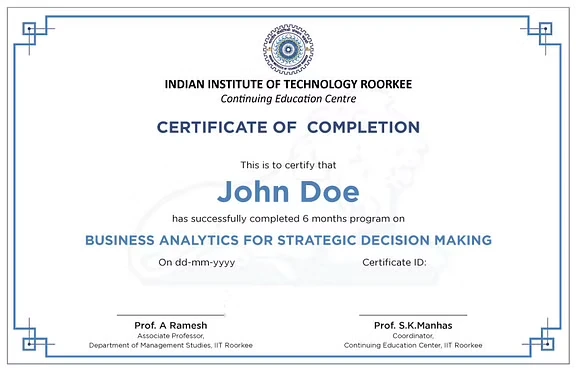 Partnering With IIT Roorkee:
➦ Receive a certificate of completion from CEC, IIT Roorkee
➦ Attend masterclasses by distinguished IIT Roorkee professors
➦ Learn business analytics and its applications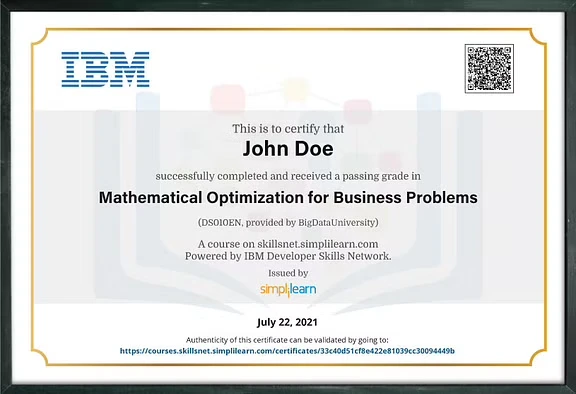 Program In Collaboration With IBM
➦ Industry-recognized IBM certificates for IBM Data Analytics programs
➦ Industry masterclasses conducted by IBM
Simplilearn
JobAssist Program
Simplilearn Job Assist program is an India Specific Offering in partnership with IIMJobs. The Program offers extended support to certified learners to land their dream jobs.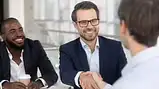 IIMJobs Pro-Membership of 6 months for free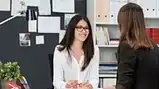 Resume building assistance to create a powerful resume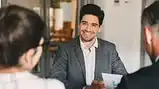 Interview preparation to help you land your dream job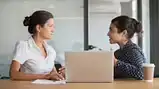 Career mentoring to help you achieve your career goals
Eligibility Criteria
For admission into this Business Analytics program, the following are the expectations:
An eagerness to apply course concepts to real business problems
Preferably 6+ years of work experience
Application Process
The application process consists of three simple steps. An offer of admission will be made to the selected candidates and accepted by the candidates through the payment of the admission fee.
Submit Application
Tell us about yourself and why you wish to enroll for this program
Evaluation & Review
Get shortlisted based on your performance in the qualifying test
Admission Rollout
Begin your journey to becoming an industry-ready Business Analyst
Admission Fee & Financing
The admission fee for this Business Analytics program is ₹ 1,69,000 (Incl. taxes). This fee covers applicable program charges.
No Cost EMI
We have partnered with the following financing companies to provide competitive finance options at 0% interest rate with no hidden costs.




Total Program Fees
₹ 1,69,000
Financing as low as
₹ 5,610/month
Having queries regarding the Program !
Submit your details below
Our Academic Experts will assist you within 24 hours.